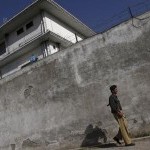 Military Intelligence
Agency of Pakistan has arrested five
Supreme CIA
informants who
provide information
about the existence
Alqaidah leader
Osama bin Laden
before ambushed in
hiding in Abottabad,
north of Islamabad,
Pakistan. So reports
The New York Times,
Wednesday (15 / 6).
One of the five
informants are
major Pakistan
army. He allegedly
recorded the license
plate numbers of
cars stopped at the
house, Osama bin
Laden. However, the
fate of the detainees
were not clear,
writes The New York
Times, citing U.S.
officials.
CIA Director Leon
Panetta, said that
issues surrounding
the detention of
Osama informant
ever heard when he
visited Pakistan last
week, where he met
with Pakistan's
military and
intelligence officials,
wrote The New York
Times.
Some parties in
Washington to
assess the arrest of
CIA informants such
as a picture between
the U.S. and Pakistan
in fight against
extremists priorities,
the newspaper
reported. United
States let Islamabad
in ignorance when
Navy Seals special
forces raided his
hideout Navy Osama
on May 2 to
complete.
Such actions are
deemed insulting the
armed forces of
Pakistan and the
Pakistani military
and intelligence put
under pressure. A CIA
spokesman told The
New York Times, the
CIA has strong ties
with Pakistani
intelligence agencies
and address the
problem when the
problem occurred.
Relations between
Washington and
Islamabad tense
since the killing of Osama bin Laden.
Image : Republika l SNW