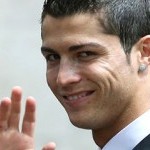 MADRID -
Cristiano
Ronaldo
, Real Madrid
star, said it was not possible to compare between coach Jose Mourinho to coach
Manchester United, Sir Alex Ferguson.
CR7, so nicknamed
Ronaldo, had been trained by both coaches felt it.
''They are
different,''said
Ronaldo. ''You can not compare a Ferrari to Porsche.
Like a Ferrari or
Porsche, it's up to you.''
However, Ronaldo insisted that Ferguson and Mourinho are the two great coaches.
Former Manchester
United star was
admitted impressed by Mourinho's
training methods.
He considered the best method.
Then, how about
Ferguson's
comments Cristiano Ronaldo?
Ferguson ''like a
father to me.''